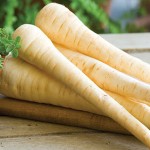 The parsnip – that pale and pasty relative to the carrot and the celery root.  They remind me slightly of a Vermonter's legs during the winter months.  But, don't let this straggly appearance fool you.  This winter vegetable has an intense, sweet, herbal flavor that lends a unique taste to dishes.  Parsnips pair well with pork, other root vegetables, and dark leafy greens.  When roasted, they caramelize on the outside and turn creamy within. Parsnips can also be used in baked good to give a spicy sweetness.
When buying parsnips, keep in mind that the small ones aren't necessarily more tender. Choose fairly big ones (less peeling!) that are sweet-smelling, firm, and free of blemishes or soft spots. Avoid ones with a sprouting top. Parsnips will keep for weeks when stored in a crisper in a ventilated plastic bag.
To cook, first peel and trim as you would carrots. If you find one with a woody core, remove the core with a paring knife.  Parsnips are softer and quicker cooking than carrots.
So head to the store, grab yourself a bag of pale Vermonters' legs, and give one of the following recipes a try!
Beef Stew with Potatoes and Parsnips
¼ cup all purpose flour
2 pounds boneless beef chuck roast, cut into 1 inch pieces
3 tbsp vegetable oil, divided
1 medium yellow onion, diced medium
4 garlic cloves, chopped
¼ cup tomato paste
1 pound fingerling potatoes, halved lengthwise
1 pound parsnips, peeled and cut into ½ by 2 inch pieces
1 tbsp white vinegar
Preheat oven to 350. In a large bowl, season flour with salt and pepper. Coat beef in flour, shaking off excess. In a large heavy ovenproof pot, heat 2 tbsp oil over medium. In batches, brown beef on all sides, about 5 minutes per batch. Transfer to a plate.
Add remaining tablespoon oil, onion, garlic, and tomato paste and sauté until fragrant, 2 minutes. Add 3 cups of water and bring to a boil, scraping up browned bits. Add beef and any accumulated juices, potatoes, parsnips, 1 ½ tsp salt, and ½ tsp pepper. Cover, transfer to oven, and cook until meat is fork-tender, 1 hour. Stir in vinegar and serve.
Spiced Parsnip Cupcakes
1 cup all purpose flour
1 tsp ground cardamom or 1 ¼ tsp pumpkin pie spice
1 ½ tsp baking powder
¼ tsp fine salt
¾ cup packed light-brown sugar
2 large eggs
2/3 cup vegetable oil
1 tbsp vanilla extract, divided
2 cups grated parsnip (from 1 large peeled parsnip)
8 oz cream cheese, room temperature
½ stick unsalted butter, room temperature
½ cup confectioners' sugar
Preheat oven to 350. Whisk together flour, cardamom, baking powder, and salt. In a large bowl, whisk together brown sugar, eggs, oil, 2 tsp vanilla, and parsnip. Stir in flour mixture.
Line 12 standard muffin cups with paper liners. Divide batter among cups. Bake until a toothpick inserted in center of a cake comes out with a few moist crumbs attached, 18 to 20 minutes. Let cool completely in pan on a wire rack.
In a large bowl, with a mixer, beat cream cheese, butter, confectioners' sugar, and remaining vanilla until combined. Spread frosting onto cooled cupcakes.
To store, refrigerate cupcakes in an airtight container, up to 2 days.