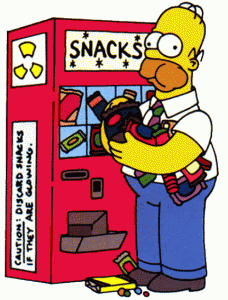 Most kids often get ¼ of their diet from snacks. That's enough to make snacks count essentially as a fourth meal so its important to make those snacks as nutritious as possible.  Unfortunately, most snacks are desserts, sugary drinks, salty foods or simply heavily processed nutritional duds.  Start a snick-snack-paddy-whack revolution and fuel your kids up with foods that will help them perform better in school, sports, and life!
Dazzle it – Sometimes fancy packaging is enough to excite kids about a healthy snack.  Get creative!
Fill muffin cups with pistachios and dried cranberries.
Put popcorn in a brown lunch bag that you have decorated with stickers and drawings or messages.
Wrap it –
Spread nut butter on whole wheat tortilla or flatbread and sprinkle with strawberries, bananas, or peaches on one third of the wrap before rolling.
Combine hummus and shredded carrots on rolled flatbread.
Fill small tortilla with variety of diced and shredded vegetables and a small dab of dressing.
Dip it –
Mix taco seasoning into plain yogurt and serve with cut up veggie strips.
Serve baked tortilla chips with salsa or bean dip.
Try olive tapenade or pesto as a dip or sandwich spread to expose your child to different tastes.  For a less-intense dip, mix it will plain yogurt or low fat sour cream.
Mix it – To ease the transition to healthier snacks, mix a little bit of less health with the more healthy.
Create a trail mix of chocolate chips or broken cookies to nuts, dried fruit, and whole grain cereal.
Send a plain or vanilla yogurt with mini chocolate chips and sliced strawberries.