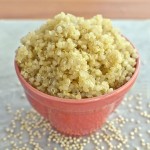 Quinoa (pronounced keen-WAH) – say it loud and proud because it is one of those superhero whole grains that should be a weekly feature on your family's plate.  Folate, phosphorus, fiber, unsaturated fats are some of the key nutrients found in quinoa. And, as the only grain that contains every essential amino acid, quinoa offers all the protein but none of the cholesterol that is found in animal proteins.  Take that, carnivores.
 Quinoa Patties (from epicurious)
2 ½ cups cooked quinoa, at room temperature *
4 large eggs, beaten
½ tsp sea salt
1/3 cup chopped fresh chives
1 onion, finely chopped
1/3 cup freshly grated Parmesan or Gruyere cheese
3 cloves garlic, finely chopped
1 cup whole grain bread crumbs
1 tbsp olive oil or clarified butter
Combine the quinoa, eggs, and salt in a bowl.  Stir in the chives, onion, cheese, and garlic. Add the bread crumbs, stir, and let sit for a few minutes to allow the bread crumbs to soak up some of the moisture.  Form the mixture into patties. Add a bit more bread crumbs if mixture is too dry OR add a bit of water or beaten egg if the mixture is too moist. (Mixture can be made ahead and kept in refrigerator until ready to cook)
Heat the oil in a large skillet over medium-low heat.  Add as many patties as will fit in skillet without touching, cover, and cook for 7 to 10 minutes until the bottoms are deeply browned.  Turn up the heat if there is no browning after 10 minutes and continue to cook until browned.  Flip the patties and cook an additional 7 minutes or until golden. Remove and serve. 
*To cook quinoa: 1 cup of dry quinoa will yield about 3 cups of cooked quinoa.  To prepare, first rinse the quinoa is a strainer.  Then add 1 cup quinoa to 2 cups water and bring to a boil.  Cover and cook until liquid absorbed and quinoa tender, about 15 minutes.  Let stand an additional 5 minutes, covered and off the burner.