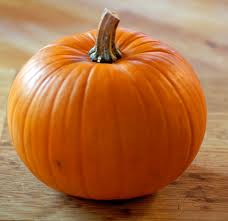 Pumpkins are abundant this time of year, but more so for carving than as a main staple in the American diet.  The nutrients in pumpkin, not to mention its yummy flavor, are enough though to give pumpkin a try beyond the typical jack-o-lantern or pumpkin pie.  The bright orange color of the pumpkin is a dead giveaway for its high beta-carotene content.  Along with this antioxidant, pumpkins are also packed with potassium, iron, and fiber.
Purchase fresh pumpkins now while they are in season.  Sugar or "pie" pumpkins are a better choice for eating because they are smaller and sweeter than the ones commonly used for jack-o-lanterns.  Choose ones that are free from blemishes, firm, and heavy.  Store pumpkins in a cool, dry area such as a root cellar, basement or shed and they will last up to 2 months.
Now, how to begin bringing pumpkin to your table…Try roasting cubed pumpkin along with shallots, apples, and other root vegetables.  Or, roast alone and serve with salad greens, goat cheese, and a tangy vinaigrette.
For smooth, pureed pumpkin, you can purchase cans at the grocery (be sure to grab the can marked "100% pumpkin", not the sweetened "pumpkin pie mix") or make your own from a fresh pumpkin.  To make your own, try the following easy technique. First, cut off the top with the stem and remove inner goo.  Enlist your kids to help with this step!  Seeds can be washed and saved for roasting.  Place the hollowed out pumpkin upside down on a baking sheet and bake at 375 degrees until soft, approximately 45 minutes.  As the pumpkin cools, the tough outer skin will separate easily adn teh meat can be scraped out and mashed.
Pureed pumpkin meat can be used in place of oil in baked goods.  It can also be swirled into oatmeal with a touch of brown sugar and cinnamon.  Pureed pumpkin can also be used in soups, pasta, and rice dishes.  Do a quick internet search to find other recipes and if you find one you like, share it here!