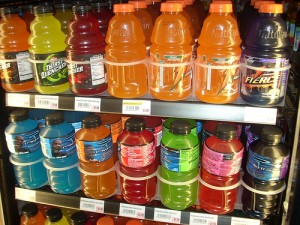 Often, I am asked what brand of sports drinks, gels, energy bars, or protein bars is the best.   Regardless of the type of food product, I always answer that the best brand is the one that tastes the best to them and that settles the best in your GI tract.
Engineered sport products are more about convenience than necessity. Sports foods and fluids are not sources of "magic ingredients", are not better digested than standard fuels, are not likely to enhance performance, are not necessary BUT they are a booming business in the food and sports industry.   In fact, the number of sports drink products is expected to grow by 33% worldwide in 2012. What more could we "need" from a beverage??
Experiment during training to see if these products are worth the money or if you would do just as well with real "sport foods"such as chocolate milk, bananas, pretzels, broth, flat soda, etc. Often, real foods taste a lot better and leave more money in your wallet!