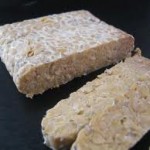 Soy is a nutritional beast.  It delivers as much protein as meat without the cholesterol, is low in sodium and saturated fat and is high in fiber, calcium, and probiotics.  Recent studies have even found that soy is associated with a reduced risk of heart disease and certain cancers.  Unfortunately, many people trying to reap these health benefits from soy have been unable to get over the peculiar consistency of the typical soy-based food, tofu.  Tempeh may be the answer.
Tempeh is made from fermented soybeans. In contrast to tofu, which is made from soymilk, the whole soybean is used for tempeh, giving it a firmer texture. The taste has been described as nutty, mushroom-like, or earthy.
This taste and texture combine to make a comparable substitute for meat.   It can be used in chili, and stews or cut into stripes and stirfried with vegetables.  Mix tempeh cubes with celery, bell peppers, scallions, mayo, lemon juice, and parsley to make a tempeh "chicken" salad sandwich. Grate tempeh with a cheese grater and use as meat replacement for tacos.
Bring the beast home to your house for dinner tonight!
These recipes have made it successfully past the lips of my uber-stubborn kindergartener and If-It-Moos-I'll-Eat-It" husband.
Marinated Tempeh Stir-Fry with Broccoli and Red Bell Pepper